REMISSION ALLIANCE AGAINST BRAIN TUMORS
Photo credit University of FloridaOn Friday, February 22, 2019, Harris Rosen and the ReMission Summit Against Brain Tumors officially announced a game changing alliance. During the 2019 summit at Rosen Shingle Creek, Mr. Rosen launched a fundraising campaign which he kicked off with a $12 million donation. Duane A. Mitchell, M.D., Ph.D., Director, Cancer Therapeutics & Immuno-Oncology at the University of Florida Health Cancer Center, says this partnership captures the desire for "a true paradigm shift in brain tumor research and treatment."
Typical research environments are competitive as resources are extremely limited. This causes teams to withhold research from the public to secure a competitive advantage over other researchers who are vying for grants and extra funding. ReMission Summit, via the Remission Alliance Against Brain Tumors, aims to breakdown these barriers by creating an open environment in which researchers and doctors who benefit financially from donations must be willing to share research, labs, and tools. The hope is that in this environment, ideas, clinical trials, and treatments will be freely shared, debated, tested, and delivered to patients faster.
This alliance and open funding has attracted the attention of top brain cancer experts from across the globe creating a network of neuro-oncology, tumor immunology, and genetics experts. This group has been vested by top peer institutions as well as a "community of vested collaborators and influencers affected by brain cancer." The ReMission Alliance headquarters runs out of the University of Florida (UF) Health in Gainesville.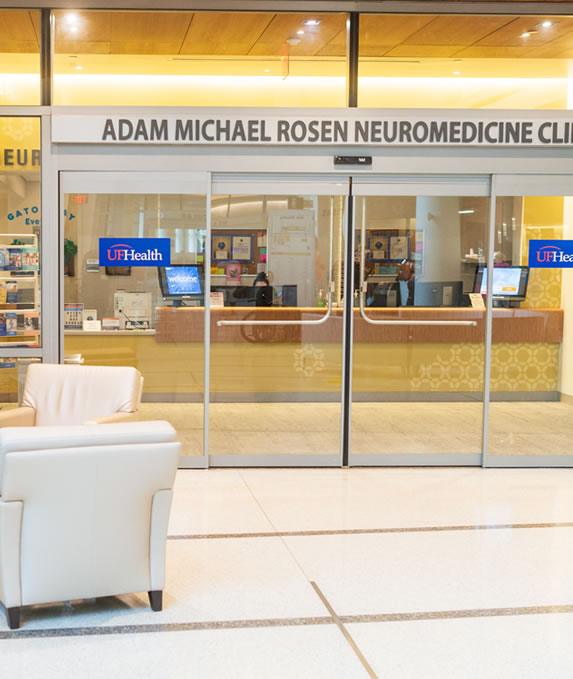 UF HEALTH NEUROMEDICINE
Adam and his family will always have history with UF Health. After Adam received a diagnosis of inoperable anaplastic astrocytoma by Dr. William Friedman, he became a patient of Dr. Ashley Parham Ghiaseddin at the UF Health Neuromedicine Hospital. Adam's prognosis qualified him to receive immunotherapy vaccines still in clinical trial stages. These trial vaccines were creations of Dr. Duane Mitchell and his team of researchers, a team Dr. Mitchell brought with him from Duke University.
At UF, Dr. Mitchell and his team are expanding on Mitchell's trailblazing work of fighting brain cancer with advanced immunotherapy. His research and clinical trials have received international recognition as they've been successful in significantly extending their patients' lives.
Harris Rosen's generous donation toward UF Health and ReMission Alliance, headed by Dr. Mitchell, brings together world-leading neuro-oncology scientists and physicians and scientist. Speaking about Rosen's generous donation, UF President Kent Fuchs says, "Thanks to the generosity and support of Harris Rosen and his family, we are able to pursue research breakthroughs that result in real change."
In honor of Mr. Rosen's incredible financial and moral support, the suite currently housing UF Health Neuromedicine & Neuro-oncology laboratories was renamed in Adam's honor. The Adam Michael Rosen Neuromedicine Clinic is housed in the Evelyn F. and Williams L. McKnight Brain Institute.
Keep abreast of the latest UF research news https://braintumors.ufhealth.org/